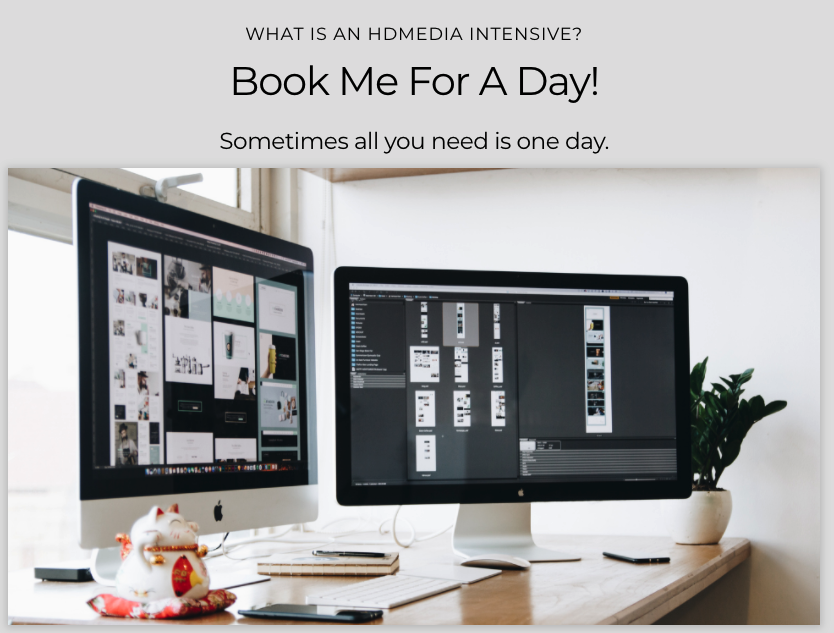 What is an HDMedia Intensive?
Book Me For A Day!
Sometimes all you need is one day.
An HDMedia intensive consists of one full day of fast & reliable digital work. Whether you have a punch list of website edits or need a new logo or website design, we've got you covered!  
Together we work virtually to help move your brand forward. 
Example projects we typically complete in a day:
Full Brand Identity Design or Re-Design (Including custom logo, fonts, colors, icons, photos, and templates.)
New website or landing page
Update or "Refresh" your website. 
Move an older website to an updated platform like Squarespace or Wix.
Our Virtual Day together is simple, easy, & fun
Ready to book or have Questions?
I know this is a big decision, Let's chat via phone and work out the details! Give us a call and we can set up a custom day that works for you! 
Proudly providing digital media services to the Phoenix, AZ metro valley and surrounding areas, including:
Scottsdale, AZ | Chandler, AZ | Gilbert, AZ | Mesa, AZ | Tempe, AZ
Designed by Innovative Digital Media
Proudly providing digital media services to the Phoenix, AZ metro valley and surrounding areas, including: Scottsdale, AZ | Chandler, AZ | Gilbert, AZ | Mesa, AZ | Tempe, AZ